Social Media Management
Brand Awareness






Ready to discuss your project?

Proven Formula
100s Websites Optimized. 1,000s
First Page Rankings.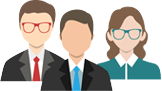 Winning Team
Talented SEO Specialists, Writers,
Web Developers, etc.

ROI Oriented
Profits that far exceed the cost of
SEO services.
Spend your valuable time running your business and let us take care of growing your social presence!
Reaching the people had never been so easy, thanks to social media such as Facebook, Instagram, Twitter, Linkedin etc platforms, through which we can target our audience and reach there. In order to engage followers on your social media platforms, we create impressive content. Our social media management service includes 1 creative designing and sharing it on all your social media platforms, 7 days a week.
Our Social Media Management Service covers:
Instagram
Facebook
Twitter
Linkedin
Pinterest
Google+
Posting on all platforms including customized imagery specific to your brand. Includes at least 1 post per day on your Facebook, Twitter, Linkedin, Pinterest & Google+ social media pages. (in some cases we'll do 2-3 posts per day for things like holidays, events, motivational/industry quotes, etc.)
Run promotions through social media to increase engagement, as provided by you.
Monitoring of all platforms to respond to comments, messages and posts.
Connect with other pages, communities and users to promote increased visibility.
Why Social Media Management For Business?
Your customers and prospects expect you to be on social media—don't disappoint them. Let our social media team take care of your social media while you take care of business.
Regular posts to Facebook, Twitter, LinkedIn, Google+ and Pinterest
Provide quick responses to customers
Boost your search engine rankings
Highlight new products and promotions
Increase your following – likes, friends and followers
Create visibility and brand loyalty
Increase traffic to your website
Engage your followers
Connect with other brands
WHAT DO WE NEED FROM YOU?
Your PURPOSE: Why do you exist? What are you here to do? Your big IDEA!
Connecting people with your purpose will guide what we create, curate, and communicate.
You CANNOT be EVERYTHING to EVERYONE. You CAN BE something SPECIAL to SOMEONE. We need to find that SOMEONE.
Our Happy Stats

6 yrs +
Experience

500 +
Projects

50 +
Industry Served

90%
Client Retention