ONLINE SCHOOL MANAGEMENT SOFTWARE COMPANY in india
Online ticket booking software is useful for any travels agencies and bus operators to book tickets from website and application. We offer various type of bus ticket booking system for our clients. It has all latest features for bus ticket booking with online payment gateway and real time API integration with other bus operators.
This software is developed in php so it can be integrate with mobile platforms and mobile applications also. It is enable with multiple login so it has no limitation for connect with multi users login and bus operators. You can create multiple routs and booking agents as well as support multi boarding point and dropping points in same city. DNG bus ticket booking system is total white label software so you can use this software and mobile applications with your own brand and own domain name.
GETMEONLINE is well known name in the field of online bus ticket booking portal development in Ahmedabad, India. Our software are built with advance technology and latest features which are practically useful for users and bus operators. It can integrate with multiple currencies so it can be useful in all countries. Our bus reservation system is fully automated so when passenger books a ticket they will get confirmation with PNR on mobile number and email address.
We can also integrate this system with aggregate model like bus ticket booking market place where you can implement multiple bus operators on single platform. It has all the required reports for accounting and booking of all agents and booking centers. Promotion code and coupon code facility also available in B2B and B2C bus ticket booking software.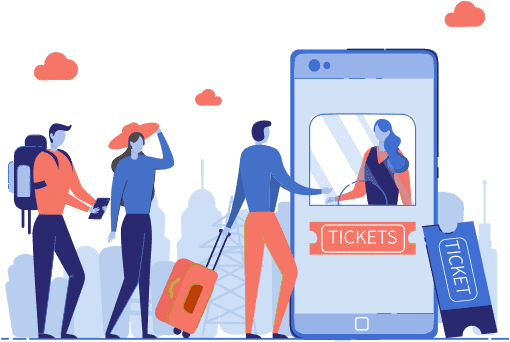 Bus Routes Management
Manage Daily bus routes and schedule with dynamic fair policy for indivaidual bus operator / Routes
Live Bus Tracking
Track Live bus location on Map using GPS from driver application or GPS enable buses
Offers and Booking Management
Manage discount offers and total booking control from admin dashboard with dynamic price
Ticket Booking user end Web portal Design
 Website Designing for Bus Ticket Booking for end users
 Responsive website(Mobile Friendly)
 Find Bus schedule
 Create User Profile
 Book Bus Ticket with online payment
 Instant ticket booking with SMS and Email
 About Us Page
 Services Pages
 Banner Animation
 Inquiry To Email Address
 Latest PC browser capability
 Social Media Links integration
 W3 Compliant
User Management
 Create Bus Operator Users
 Agent Users Management
 Customer User Management
 Manage Staff / Employee users
 Driver / Cleaner Users management
Routes & Schedule Management
 Create Routes for bus
 Manage Routes points
 Update Shcedule and routes
Boarding / Dropping points management
 Create Boarding points
 Create Dropping points
 Assign droping points to Routes
 User Portal / Application Features
 User Login
 End to End Booking
 Online Payment Gateway
 All available routes booking
 Seat Availability
 Download / Print Tickets
 SMS alerts for ticket booking
 Ticket cancellation
 Manage Profile
 All orders list
 All booking records
 Manage Reservation
 Check All booking reports
 Ticket Cancellation reports
 Total Accounting
Customer Management
 User Management
 Send Auto SMS reminders and Ticket
 Send Promotional Newsletters
Modules of Admin Panel of Portal
 User Management
 Routes & Schedule Management
 Boarding / Dropping points management
 Bus Operators Management
 Layout / Bus Types Management
 Tracking
 Manage Reservation
 Customer Management
 Business Intelligence & Account Management
 Masters
 City Master
 Ticket Print Master
 GST Master
 Rout Master
 Bus Seat Master
 Dropping and Boarding points master
Bus Operator Module
 User Login
 Manage Profile
 Manage Daily Routes
 Booking management
 Seat Management
 Ticket Price Management
 Real time attendance of passengers (Check in confirmation)
 Bus Seat Management (Seating / Sleeping)
 Driver Allotment
 Bus Master
 Update Trip sheets
 Close trips sheets
 Office Ledger accounts
 Trip Service Accounts
 Ticket Print
Masters
 City Master
 Ticket Print Master
 GST Master
 Rout Master
 Bus Seat Master
 Dropping and Boarding points master
 Bus Layout Management
 Add New bus Layouts
 Seat Arrangement
 Arrange seat numbers and bus types
 Sleeping/Seating type Bus arrangement
Bus Tracking using GPS
 Track Live bus location using GPS
 Driver Application
 Online tracking for customers application