Create an app with the best mobile app builder
Powerful Android & iOS apps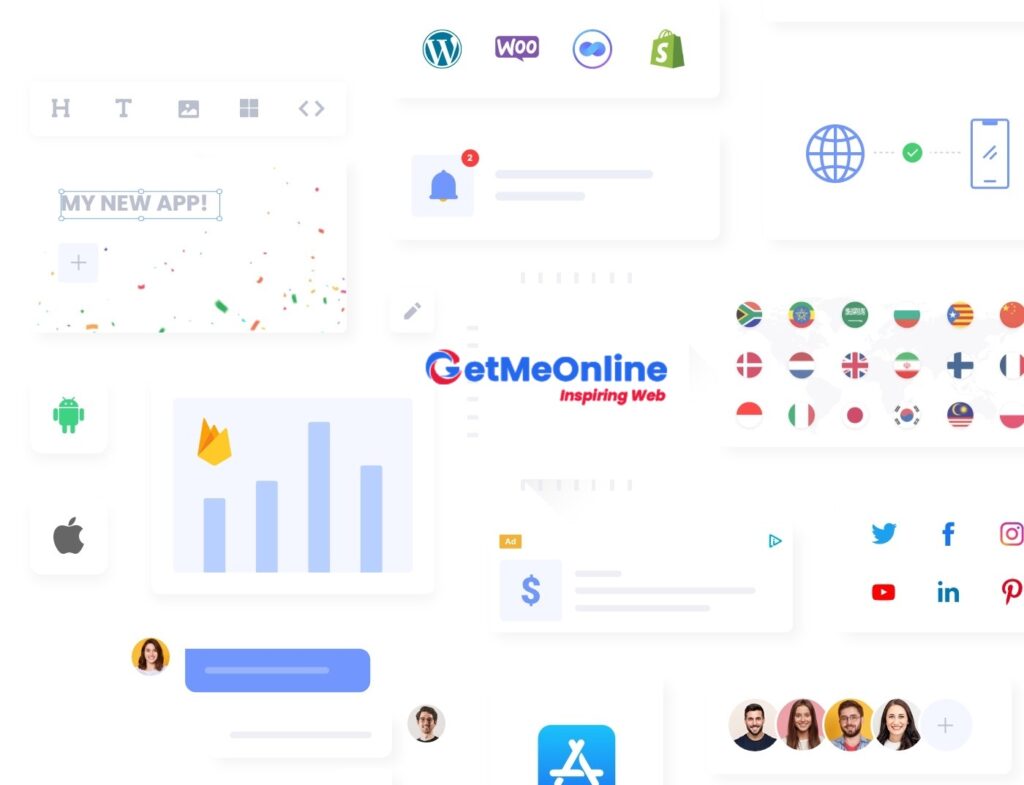 Welcome to GetMeOnline IT-Excellency
E-Commerce and App Development Company in Gurgaon
GetMeOnline is a Premium E-Commerce websites and App development company. We have served more than 500 clients since our inception in 2012. We use latest web technologies and platforms to build quality solutions for online enterprises. Our solutions are result-oriented so as to turn your investment in revenue and provide you value for money.
Mobile Optimized
We provide mobile optimized solutions tested on all major mobile platforms.
Timely Delivery
We strive to meet the project deadline ensuring the timely delivery.
Easy to Customize
Our solutions are easy to customize to handle growing needs of your business.
Excellent Support
We provide excellent technical support for all of our products.
Our Services
We Build E-Commerce Portals & Apps
We build awsome E-Commerce Portals & Apps. We select the best technology and platform that is suitable to your needs. We build customized solutions specifically for you. Our solutions turn your prospects into your clients.
E-Commerce Portals
Shopify, Magento, Zen Cart, PrestaShop, WooCommerce, OpenCart.
We design & develop modern E-Commerce portals for any type of business. Using the cutting edge technologies based on your requirements ensures that you get the best according to your requirements. After your portal is up, we assist you in digital marketing as well to ensure your online success.
An app maker for every business
A local store or a multinational chain, an on-demand delivery platform or a service provider, build an app for
any business. Launch premium Android and iOS apps without coding.


Fast & easy development
Breeze through app development with GetMeOnline's iOS & Android app builder and create flawless mobile apps within minutes of signing up.
Quick connection with website
Our intuitive online app creator takes all the guesswork out of connecting your website & app. Integrate your website & your app with just one click.
Simplified mobile app testing
Advanced preview and troubleshooting features enable you to test your mobile apps on multiple emulators & real mobile devices.
Seamless app management
GetMeOnline's user-friendly interface makes app management a bliss. Add new features, update settings, and create new app builds.
The best way to build an app
GetMeOnline has all that you need at your disposal to craft the finest apps.
Take complete control
Create customized mobile apps that align with your business goals. Gain control over design and settings as you convert your website to an app and personalize your app content.
Try now. Pay later
Subscribe to a free plan and create, customize, and preview your app. Build your mobile app for free and upgrade to a paid plan only when you are ready to go live on the app stores.
Instant app delivery
Subscribe to a free plan and create, customize, and preview your app. Build your mobile app for free and upgrade to a paid plan only when you are ready to go live on the app stores. Building an app with GetMeOnline is easy and quick. Make your own app within minutes with our intuitive solution. Preview your app and launch on Google Play & Apple App Store.
Easy app development
Creating apps is an intensive process but not with AppMySite. We have already done all the heavy lifting so you can make your app with minimal effort and have fun while building it.
Make feature-rich mobile apps that mirror your website. Personalize the
app to complement and empower your business goals.
An app for every website
GetMeOnline enables you to turn your website to an app, no matter what's on your website. Build dynamic and powerful apps for blogs, eCommerce stores or CMS websites and a variety of industries and use-cases.
Next-gen app preview
Our app maker comes with powerful app preview features. Monitor every update for app design in real time & create flawless apps. Make better design decisions & also test the compatibility of your plugins.
An app built for conversions
Be just a click away from your customers and attract more conversions. Create a mobile app
that inspires sales and amplifies engagement.
Robust performance
Build native apps that ensure matchless performance. Create apps as powerful as your website and offer a consistent experience to all your online customers.
Stunning app design
Design aesthetic and attractive apps that please your customers. Keep them hooked to the app and inspire more session-time & activity to increase your traction.
Dynamic home screen
Offer a smart browsing experience to enhance content & product discoverability. Create dynamic app menus & an effective home screen that draws more sales.
Powerful app features
Bring those features to the app that matter for your business and power the journey of your users. Point & click to add relevant features to your app with ease.
Frequently Asked Questions