ERP SOFTWARE DEVELOPMENT COMPANY in india
ERP is stands for enterprise resource planning. ERP Software is business operation management tool that allow automating the system with back office functionality with advancement of technology. 
At Getmeonline, we provide complete comprehensive solution for development of any size of ERP software in India and abroad. There are so many types of ERP systems available in market at present like Cloud ERP, Mobile ERP, Desktop Base ERP, Two-Tier ERP and more. 
This software is complete depends on your organization size and requirements. You can add required modules as per request with our technical. Mainly It has Sales, Inventory, warehousing, Operations (Manufacturing), Accounting, After Sales Service and much more. ERP software provides better efficiency with cost effective manner to any business. It centralizes all the data and reports so admin can overview the business model easily from dashboard.
There are numerous readymade ERP (Enterprise Resource Planning) Software available in market but it cannot be fit with your requirements. At that time you need customized ERP software and we are always ready to build ERP software for SME or Enterprise level Business models.
Our executive will analyze and understand your business model and provide you core functionality to develop ERP software. Mainly it has Pre sales to accounting facility in any software. If you are a manufacturing business then you must need a better system that can handle your all process and manage all operations with 100% scalability to ensure productivity.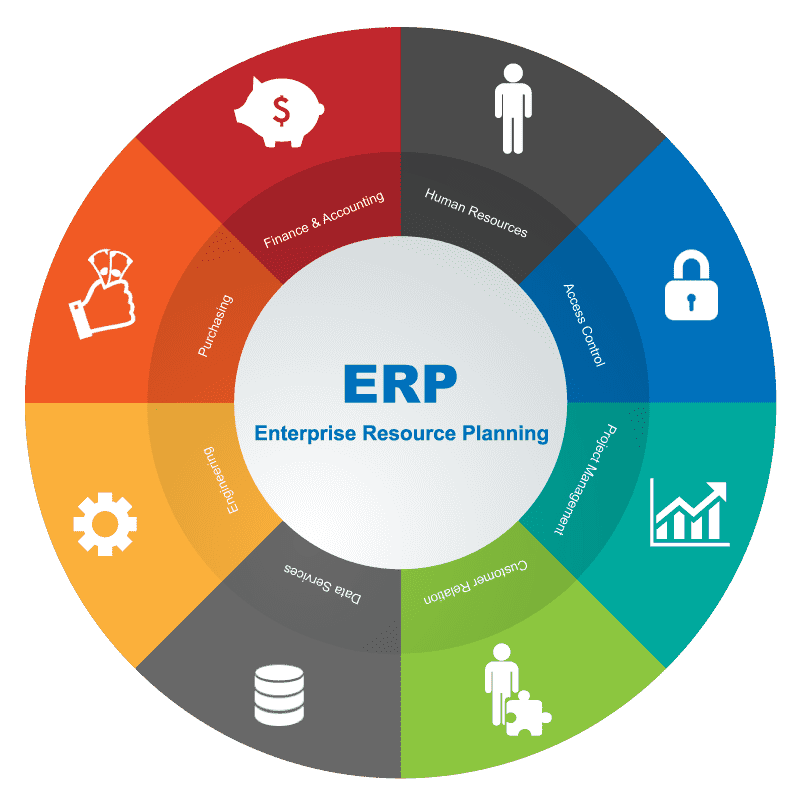 Human Resources
Add products with SKU and Barcode, product group, category and expiry date management
POS Management
Integrate your store counter with barcode scanner no need to manual deduct quantity and POS generate
Stock Reports
Get all product reports with low stock, reorder stock, sufficient stock with graphical reports
Products Management
Add products with SKU and Barcode, product group, categotegory and expiry date management
Sales Management
 Sales team management
 sales target report
 Followup management
 Customer tracking
 Stock Managmeent
 Stock Reports
 Auto Stock update
 PO Managmeent
 PO Reports
 Sales Order Reports
 Product and Warehouse Managmeent
 Products Managmenet
 Products Grouping system
 Products stock managmenet
 Warehouse wise reports
 Live stock reports of Warehouse
 Supply chain Management
 Generate Hirarchy of supply system
 Dealer Distributor management
 Warehouse and Stockiest management
 Retailers reports and Data
HR Management
 Attendance reports
 Auto Payroll Management
 Employee PF and TDS managemen
 Employee Management
 Manage Employee by branch
 Manage Pickup and Delivery Boy / Employee
 Manage Employee rights as per deisgnation
 Manage Expense by employee
 Branch / Center Employee Login