Dashboard
User-friendly Administrator dashboard with Features and Characteristics for better Site Management.
Gift Option
Gift services feature allows you to offer various pricing options on product level with gifting features like gift wraps, personalized messages, etc.
Multi Store
Add multiple locations so customers can locate the nearest store based on the product availability on each location.
Vendor Management
Manage multiple sellers across your platform, set per sale commission, review supplier information in real time.
Product
Upload and manage unlimited number of product options like color, price, size, weight, etc.,
Bulk Orders
Run your wholesale business by setting different pricing based on quantity and allow customers to place large orders on a single go.
Customer Management
Create customer profiles in multiple groups like registered and guest customers, view and manage wish list, coupons, etc.
New Arrivals
Publish your latest products on top view and ready for purchase by your customers by placing new arrivals within their reach.
Stock Management
Monitor stock changes and get automatic notification when the stock level goes below the specified limits to pre-order stocks.
Promotional Banners
Place attractive promotional banners for user's reach, by helping them buy more.
SMS Management
Enable SMS Subscription feature and connect to subscribers through SMS marketing.
Advertising
Add & Update Banners to Advertisement. These ads will then be showcased to the Users browsing through your Website.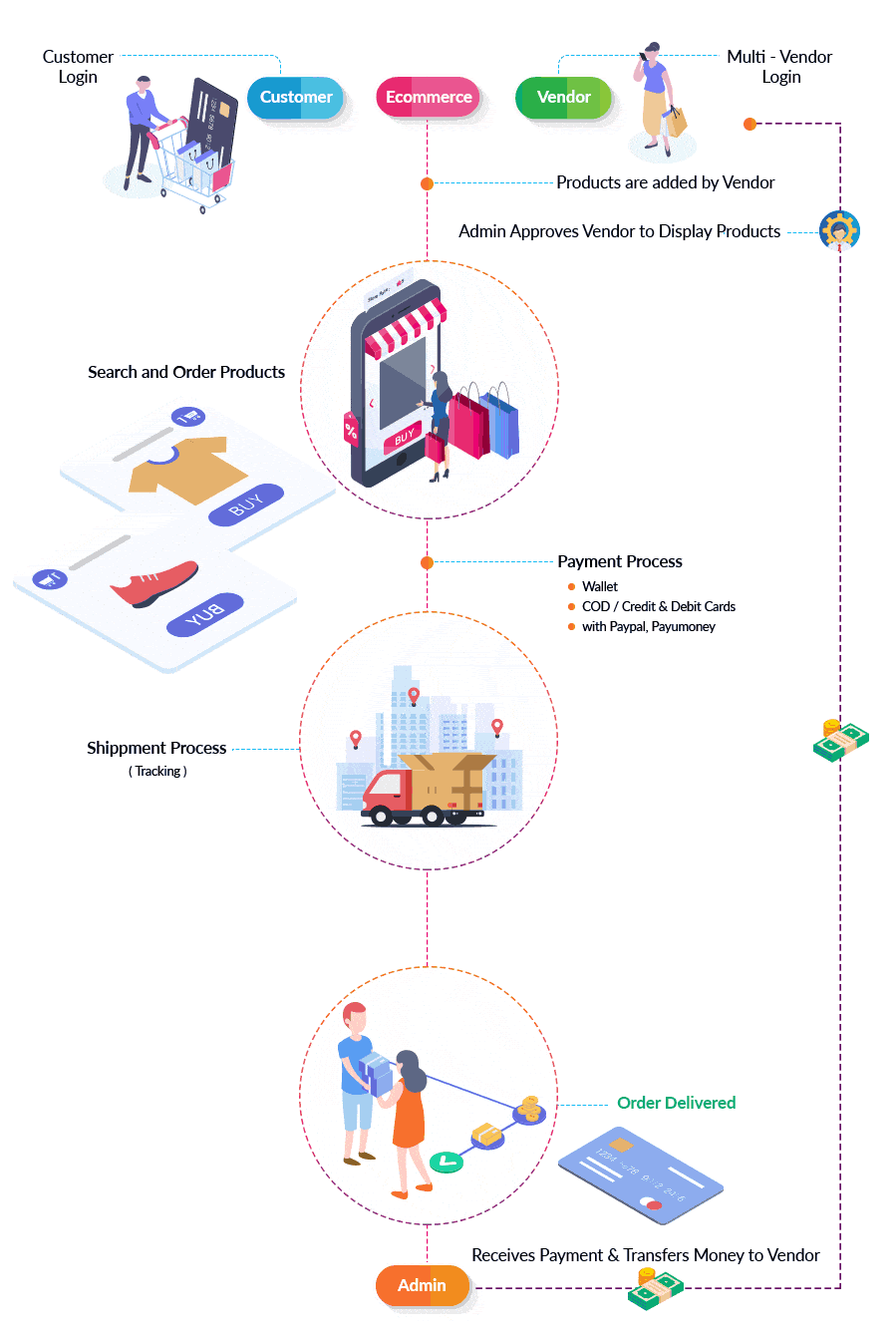 OTP Login
Enable sign up with a mobile number to allow Login using OTP (One Time Password) for a passwordless login access to your Website.
Filter Attributes
Gives the ability to filter product by attributes and custom options which allows finding desired product faster without refreshing the list.
Location Tracking
Maximize client footfalls by cultivate customers with completely different offers and rewards once they enter into your geographical surroundings.
Social Media LogIn
This allows clients to enter your online shopping website through social media logins. It gives your consumers the seamless shopping experience.
Wishlist
Add unlimited number of wishlists with advanced features to let customers copy or move products between wishlists for later use.
Navigation
All our products are accompanied with search engine friendly layered navigation menus through page hierarchy system.
Live Chat
With live chat integration reply to queries, make easy live conversation & ensure support.
Delivery App
Our Delivery Mobile App let's the deliverer navigate to nearest customer and text or call him.
Compare Products
Allows the buyer to compare products based on quantity, brand and other attributes in a more efficient way.